【2018 ~ 2020 Postgraduate student in the field of Computer Vision】

---
👉 An industry-university cooperative research project is now in progress,
focus on image restoration, image recognition and noise reduction.
● Computer Vision with OpenCV
● Deep Learning
● Big Data Analytics with R
Bookworm and Tech Geek :
I am always hungry that I'm lovin' eat books, competitive paper, and cutting-edge know-how

Cover Letter and Pain Letter
Hi ,




This letter is to express my interest in the software developer and engineer position.

With a Master's Degree in Computer Science, numerous hands-on experience in software development, and the ability to solve problems in

a timely and accurate manner, I enjoy being challenged and working on projects that require me to work outside my comfort zone and beyond knowledge, as continuing to learn new programming languages and development techniques are important to me and my contribution to your organisation.




Over the course of the school years: 【2014 ~ 2017 Undergraduate Studies】

I have outstanding academic performances and won the Honours Student Award hence I always take full responsibility for my duties and always pursue superiority.

I led a successful software project as the team leader (Drone-Assisted Detection System for High-Risk Disaster Areas , using computer vision and automatic control techniques) and I was awarded 4 awards in the different project competition; I solved the pain associated with emerging issues in disaster risk reduction and my teammates treat me as a great team player.
I have good English language skills and won a fully-funded scholarship to study in Australia and lived with the local people, which help me to be more understanding of cultural differences and I would help your organisation compete in a global market and understand the first-hand cutting-edge technology.





I have good software development skills, Multilingual Communication Skills (English, Chinese, and Hokkien), and interdisciplinary learning and knowledge integration capabilities.




I look forward to speaking with you about this opportunity.





Sincerely,



Shih-Fang Chen
Large Scale Application Development Experience

(2016-2017)



【The Development of Drone-Assisted Detection System for High-Risk Disaster Areas】

Recently there have been many fearless relief workers who have bravely sacrificed their lives in hazardous areas.
Based on that, I developed a Drone-Assisted Detection System for High-Risk Disaster Areas.
---
Position:
Team Leader and

Software Engineer



Using aircraft patrols the surrounding area: It can be bound for any coordinates that supervisor asks by itself. An IP Camera and a Combustible Gas Sensor are mounted on the aircraft.Thus, it patrols the venue and the surrounding area before a disaster relief work.
A flight control system: Through the flight control algorithm, the aircraft can be controlled by the computer remotely.
It is a self-flying drone: The drone will follow any object that supervisor select. It will be more effective when the supervisor monitors the remote environment with a view to giving accurate environmental information to the relief workers.

The video and GPS coordinates of the drone will be stored in the remote server automatically for the purpose of preventing any bombshell causing data loss.
Chinese version Proposal Writing
---
Personal Contribution:
Drone Assembly and Calibration

experience

Mission Planner

Ground Control Station Operating Experience

(Python Script, PID, Compass, Accel Calibration, Calibrate Radio, et cetera)

Programming Experience in

C++

and

OpenCV Library

Functional Design


User Interface (for image source, User's Manual, and drone control functions)
Display a warning signal corresponding when combustible gases are detected

Display real-time drone data (battery, Flight height, speed, latitude, and longitude)

GPS mode input interface

A flight control algorithm

A Drone object tracking and following algorithm (Automatic Control and Computer Vision)
Real-time remote data storage service (video and GPS coordinate)

Skills that I am familiar with

Image processing skills (Morphological Operations)
Keyboard / Mouse event
Files I/O Operations
String Operations

Programming Experience in

Pytho

n

Functional Design


Read the text from C++ output file then send a Flight Control Command to the UAV platform automatically.

Skills that I am familiar with


Files I/O Operations
String Operations

Linked List Operations
Python Scripting in Mission Planner

Aviation Safety Test and Bug Fixes

Professionalism means consistency of quality.

Frank Tyger
---
Team Leader

The 17th Elite Student
Organise an Australian study tour Exhibition with 19 people

---
Delegate
Office of International and Cross-Strait Cooperation at CYUT
Mission:
Hosting International Visitors

---
Military Police

Mandatory military service at
Developing a Combat Mindset (Close Quarters Battle Skills)
---
NCFTA

Engineering Section of National Center for Traditional Arts - Taiwan Assistant (2014 summer)
Assist the professional staff to renovate the facilities of the centre and made it better.

---
CYUT
System Management Section of Chao Yang University of Technology Administrator (2016 Spring) Computer maintenance services for the CYUT members and IT consultation and assistance.

---
YZU

Teaching and research assistant

TA for:
2019 Big Data Analytics course

2018 Linear Algebra course

, etc.
2018 Introduction to R for Data Science

2017 Bronze Medal Award in 2017 Creative Software Applications Contest

2017 Honourable Mention Award in 2017 Creative Software Applications Contest

2017 全國大專校院軟體創作競賽,值得注目獎

2017 Publishing conference paper in the 11th International Conference (AIT)

發表資訊科技國際研討會論文

2016 First Place Award in the Project Competition of Dept.CSIE,CYUT

105 學年度資訊工程系「專題競賽」第一名

2015 Foundation Certificate in EPC Architecture Framework(RFID)
2014 Red Hat Certified System Administrator(RHCSA)

2013 D-Link NETWORK ASSOCIATE

2013 Level B Technician for Computer Hardware Fabrication

勞動部 電腦硬體裝修 乙級技術士

2012 First Place Award in the World Robot Olympiad, Taipei

國際奧林匹亞機器人大賽 北區第一名

2012 Level C Technician for Web Page Design
勞動部 網頁設計 丙級技術士

2011 Level C Technician for Computer Hardware Fabrication
勞動部 電腦硬體裝修 丙級技術士

2017 IELTS : overall band scores 6.0 (quadruple 6)
2015 The CYUT Elite Student (Fully-Funded Scholarship)
當選朝陽科技大學菁英學生,獲全額獎學金赴澳洲進修
2013 Volunteer of Volunteer Training and Education
志願服務教育訓練志工人員
2013 Professional Certificates Award
高中時期專業技能傑出,獲頒證照達人獎
2013 Perfect Attendance Record Award (High School)
高中三年全勤獎
2011 The Certiport Spelling Bee Advanced
Certiport美國拼字大賽 特優等
2010 Perfect Attendance Record Award (Senior High School)
國中三年全勤獎
2004 Abacus Calculation Level 3 / Mental Arithmetic Sections 4
心算四段/珠算三級合格
Academic Achievement
(
2013~2017 undergraduate studies)
---
GPA : 3.64 / 4.0 , Average Score : 86.07 , ranking top 6 % by a 120 students group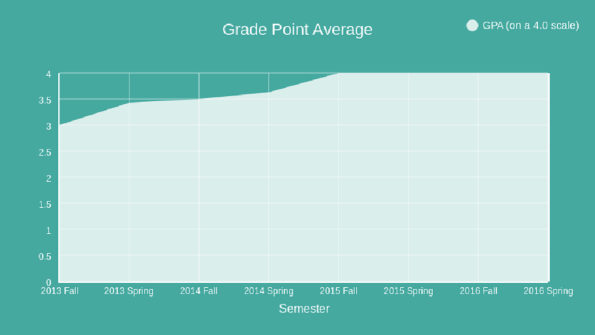 I had outstanding academic performances during the undergraduate studies. I tried my utmost to maximise my study efficiency so that the Grade Point Average rose steadily each semester. It at first rose from 3.1 to 3.63 in the course of four semesters, in the ensuing four semesters, it then plateaued at 4.0.

Computer Vision Programming
(Learning Period : 2017~2020)
---
Knowledge gained:
Matrix and Image Operators
Image restoration
Noise reduction
Frequency domain analysis
Image recognition and feature extraction
Contour Finding and Analysis
Tracking and Motion
Image Parts and Segmentation
Histograms and Matching

Programming language:
Visual Studio - C++
Library: OpenCV with OpenCV contrib
Ethical Hacking and Countermeasure
(Learning Period : 2016 Spring)
---
Knowledge gained:
Trojans and Backdoors

SQL Injection

Buffer Overflow
Operating System:
Kali Linux
Network Programming Skill
(Learning Period : 2015 Spring)
---
Knowledge gained:
The client server-based TCP and UDP socket programming (TcpListener, TcpClient)

The advanced Thread and Multiplexing I/O programming( Multithreading )
Implement a client server application
uses a try/catch block to catch a possible exception

Data acquisition and analysis in HTTP (ToolStrip, WebBrowser,

WebRequest)
Programming Language
:
Visual

Basic.

NET
---
Contact me in more detail through my LinkedIn.






Latest Resume Version:Feb 2019

Taiwan